Run .NET Optimization during sealing (preparation)
If you enable this policy setting, .NET Optimization is run during sealing (Preparation phase)
If you disable this policy setting, .NET Optimization is disabled during sealing (Preparation phase)
If you do not configure this policy setting, .NET Optimization is run during sealing(Preparation phase)
With BIS-F 7.1912.6 and later you can configure the .NET Optimizations via BIS-F GPO as follows:
You can run up to 2 .NET Optimizations. Enter the arguments only without ngen.exe. The Text will be displayed during the BIS-F preparation and in the logfile too.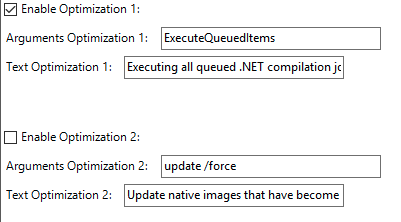 Arguments Optimization 1: ExecuteQueuedItems
Text Optimization 1: Executing all .NET compliation jobs
Arguments Optimization 2: update /force
Text Optimization 2: Update native images that become invalid
With Citrix Applayering 2008 recommended settings for .NET Optimization are changed, check out Chapter "Expedite Microsoft Ngen.exe operations, if necessary" here https://docs.citrix.com/en-us/citrix-app-layering/4/layer/create-platform-layer.html for further informations.