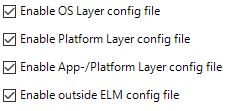 This policy settings allows you to manage Citrix App Layering and inject different BIS-F shared configurations based on Layers
If you enable this policy setting, you can configure different Shared Configurations
Enable OS Layer config file:
Configuration from BISFconfig_AppLay_OS.json is used
Enable Platform Layer config file:
If your Platform Layer is domain joined you can enable this setting and Configuration from BISFconfig_AppLay_Plt.json is used
Enable App-/Platform Layer config file:
Configuration from BISFconfig_AppLay_AppPlt.json is used
Enable outside of ELM config file:
Configuration from BISFconfig_AppLay_NoELM.json is used if you seal the Image outside of the ELM with PVS https://support.citrix.com/article/CTX226062
NOTE: The enabled Layers can only be exported during via Shared Configuration
If you disable or do not configure this policy setting, no different BIS-F shared configurations can be used.
Note: The path for the shared configuration must be configured in Global > Shared Configuration section too.
IF you have this policy enabled, select the Layers and run the command to export the shared configuration, the menu is created dynmic entries based on the enabled layers in this GPO. Select the Number to export the current configuration.

If BIS-F runs in preparation or personalization the shared configuration is imported into the registry. If the Layer can't be detected automatic fallback to the OS-Layer Configuration will be run.

Referencearticle: