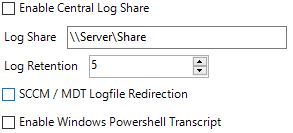 Log Share:
Configure a central log share during Device Personalization on System Startup. Authenticated Users must have read/write access to this folder
If you enable this policy setting, you must enter a valid log share location \\Server\Share.
If you disable or do not configure this policy setting, logs will be written to the write cache disk.
Log Retention (Default = 5):
specify a value between 0 -20, means the number of log files being kept.
0 = keep all log files
SCCM / MDT Logfile Redirection:
if you enable this policy and BIS-F preparation is triggered from an SCCM or MDT Task Sequence, the BIS-F log is stored inside the Task Sequence log path.
this policy overwrites the values for a configured Log share if configured.
Enable Windows Powershell Transcript:
For more debugging a Windows Powershell Transcript is created. This will be created in C:\Windows\Logs every run. The configuration of the BIS-F Log share has no impact to this configuration item.
During sealing a log file will be created: C:\Windows\Logs\PREP_BISF_WPT_%Computername%_DateTime.log
During personlization a log file will be created: C:\Windows\Logs\PERS_BISF_WPT_%Computername%_DateTime.log
The log retention for the Windows Powershell Transcript is hardcoded set to 5, a maximum of 5 WPT logs are keeped on the system.