MCSIO Disk Drive Letter:
If you enable this policy setting, you must select the drive letter for the MCSIO persistent disk (minimum VDA 1903 or higher is required)
If you disable or do not configure this policy setting, the MCSIO persistent drive is not used.
Number of Partitions:
Enter the Number of Partitions that you have on the MCS Device. If you have no MCSIO Disk you can ignore this setting.
This is relevant to the MCSIO Disk only.
If you have C Drive for OS and an MCSIO Disk use 2 Partitions (default)
If you have a System Reserved Partition, C drive for OS and an MCSIO Disk use 3 Partitions
Note: If you configure it wrong, a reboot loop occurs!
Disable Redirection:
With a configured MCSIO Disk the event logs and spool directory is redirected to the persistent drive. With this setting you can disable the redirection
Requirements:
To use MCS with persistent drive, Citrix VDA 1903 (7.21) or higher is required. BIS-F checks the version of the installed VDA
| | |
| --- | --- |
| VDA Version | $MCSIO (global variable) |
| >= 7.21 | true |
| < 7.12 | false |
Logfile:
In the BIS-F logfile you can see the following information if the Citrix VDA supports MCSIO

With BIS-F 7.1912.6 and alter the GPO settings are updated as follows:
BIS-F detect in his own way the DiskID of the CacheDisk during personalization (computer startup), but in some circumstances the wrong ID will be retrieved and a reboot Loop can be occurred. For this way you can overwrite the automatic detected DiskID for the CacheDisk with the GPO Setting.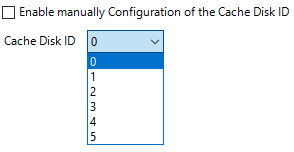 Enable manually Configuration of the Cache Disk ID:
If the persistent Drive is not right formatted with BIS-F, this is mostly an issue with the Cache Disk ID. With this setting you can manually override the Disk ID for the persistent Drive and select the ID from the Drop Down Box between 0-5.
run 'diskpart' from an administrative command prompt and enter 'list disk' to get se Disk ID and compare it with the BIS-F Log and conigure the GPO if required.
Example from the BIS-F Log after the CacheDisk Partition is successfully created:
1/16/2021 1:58:30 PM | LocalAdmin | INFORMATION… | DiskMode is VDAShared
1/16/2021 1:58:30 PM | LocalAdmin | INFORMATION… | Cache Disk will be configured now for Disk Mode VDAShared
1/16/2021 1:58:30 PM | LocalAdmin | INFORMATION… | PVS Cache Disk Configuration are not set in GPO
1/16/2021 1:58:30 PM | LocalAdmin | INFORMATION… | Reading uniqueID from registry HKLM:\SOFTWARE\Login Consultants\BISF
1/16/2021 1:58:30 PM | LocalAdmin | INFORMATION… | Read uniqueID FA7DB9C0
1/16/2021 1:58:30 PM | LocalAdmin | INFORMATION… | Using Cache Disk ID: 2
1/16/2021 1:58:30 PM | LocalAdmin | WARNING……… | Cache Disk partition is NOT properly configured
1/16/2021 1:58:30 PM | LocalAdmin | INFORMATION… | Number of Partitions from ADMX: 4
1/16/2021 1:58:30 PM | LocalAdmin | INFORMATION… | Number of Partitions on current System: 3
1/16/2021 1:58:30 PM | LocalAdmin | WARNING……… | Cache Disk is formatted, but no drive letter or the wrong drive letter is assigned
1/16/2021 1:58:30 PM | LocalAdmin | INFORMATION… | Disk ID FA7DB9C0 is set on Z:
1/16/2021 1:58:30 PM | LocalAdmin | INFORMATION… | Processing function Get-BISFLogContent
1/16/2021 1:58:30 PM | LocalAdmin | INFORMATION… | Get content from file C:\Users\LocalAdmin\AppData\Local\Temp\BaseImage-2Disk-DiskpartFile.txt…please wait
1/16/2021 1:58:30 PM | LocalAdmin | INFORMATION… | -----snip-----
1/16/2021 1:58:30 PM | LocalAdmin | EXTERNAL LOG…. | select disk 2
1/16/2021 1:58:30 PM | LocalAdmin | EXTERNAL LOG…. | online disk noerr
1/16/2021 1:58:30 PM | LocalAdmin | EXTERNAL LOG…. | rescan
1/16/2021 1:58:30 PM | LocalAdmin | EXTERNAL LOG…. | rescan
1/16/2021 1:58:30 PM | LocalAdmin | EXTERNAL LOG…. | uniqueid disk ID=FA7DB9C0
1/16/2021 1:58:30 PM | LocalAdmin | EXTERNAL LOG…. | create partition primary
1/16/2021 1:58:30 PM | LocalAdmin | EXTERNAL LOG…. | assign letter Z:
1/16/2021 1:58:30 PM | LocalAdmin | EXTERNAL LOG…. | Format FS=NTFS LABEL=CacheDisk QUICK
1/16/2021 1:58:30 PM | LocalAdmin | INFORMATION… | -----snap-----
1/16/2021 1:58:30 PM | LocalAdmin | INFORMATION… | Processing function Start-BISFProcWithProgBar
1/16/2021 1:58:30 PM | LocalAdmin | INFORMATION… | Starting Process C:\windows\system32\diskpart.exe with ArgumentList /s C:\Users\LocalAdmin\AppData\Local\Temp\BaseImage-2Disk-DiskpartFile.txt
1/16/2021 1:58:30 PM | LocalAdmin | INFORMATION… | Processing function Show-BISFProgressBar
1/16/2021 1:58:30 PM | LocalAdmin | INFORMATION… | Maximum execution time used the GPO value with 60 minutes
1/16/2021 1:58:42 PM | LocalAdmin | INFORMATION… | Processing function Get-BISFLogContent
1/16/2021 1:58:42 PM | LocalAdmin | INFORMATION… | Get content from file C:\Windows\logs\BISFtmpProcessLog.log…please wait
1/16/2021 1:58:42 PM | LocalAdmin | INFORMATION… | -----snip-----
1/16/2021 1:58:42 PM | LocalAdmin | EXTERNAL LOG…. | Microsoft DiskPart version 10.0.17763.1554
1/16/2021 1:58:42 PM | LocalAdmin | EXTERNAL LOG…. | Copyright (C) Microsoft Corporation.
1/16/2021 1:58:42 PM | LocalAdmin | EXTERNAL LOG…. | On computer: BaseImage-2Disk
1/16/2021 1:58:42 PM | LocalAdmin | EXTERNAL LOG…. | Disk 2 is now the selected disk.
1/16/2021 1:58:42 PM | LocalAdmin | EXTERNAL LOG…. | Virtual Disk Service error:
1/16/2021 1:58:42 PM | LocalAdmin | EXTERNAL LOG…. | This disk is already online.
1/16/2021 1:58:42 PM | LocalAdmin | EXTERNAL LOG…. | Please wait while DiskPart scans your configuration…
1/16/2021 1:58:42 PM | LocalAdmin | EXTERNAL LOG…. | DiskPart has finished scanning your configuration.
1/16/2021 1:58:42 PM | LocalAdmin | EXTERNAL LOG…. | Please wait while DiskPart scans your configuration…
1/16/2021 1:58:42 PM | LocalAdmin | EXTERNAL LOG…. | DiskPart has finished scanning your configuration.
1/16/2021 1:58:42 PM | LocalAdmin | EXTERNAL LOG…. | DiskPart succeeded in creating the specified partition.
1/16/2021 1:58:42 PM | LocalAdmin | EXTERNAL LOG…. | DiskPart successfully assigned the drive letter or mount point.
1/16/2021 1:58:42 PM | LocalAdmin | EXTERNAL LOG…. | 0 percent completed
1/16/2021 1:58:42 PM | LocalAdmin | EXTERNAL LOG…. | 0 percent completed
1/16/2021 1:58:42 PM | LocalAdmin | EXTERNAL LOG…. | 0 percent completed
1/16/2021 1:58:42 PM | LocalAdmin | EXTERNAL LOG…. | 0 percent completed
1/16/2021 1:58:42 PM | LocalAdmin | EXTERNAL LOG…. | 0 percent completed
1/16/2021 1:58:42 PM | LocalAdmin | EXTERNAL LOG…. | 0 percent completed
1/16/2021 1:58:42 PM | LocalAdmin | EXTERNAL LOG…. | 0 percent completed
1/16/2021 1:58:42 PM | LocalAdmin | EXTERNAL LOG…. | 0 percent completed
1/16/2021 1:58:42 PM | LocalAdmin | EXTERNAL LOG…. | 0 percent completed
1/16/2021 1:58:42 PM | LocalAdmin | EXTERNAL LOG…. | 0 percent completed
1/16/2021 1:58:42 PM | LocalAdmin | EXTERNAL LOG…. | 0 percent completed
1/16/2021 1:58:42 PM | LocalAdmin | EXTERNAL LOG…. | 0 percent completed
1/16/2021 1:58:42 PM | LocalAdmin | EXTERNAL LOG…. | 0 percent completed
1/16/2021 1:58:42 PM | LocalAdmin | EXTERNAL LOG…. | 0 percent completed
1/16/2021 1:58:42 PM | LocalAdmin | EXTERNAL LOG…. | 0 percent completed
1/16/2021 1:58:42 PM | LocalAdmin | EXTERNAL LOG…. | 0 percent completed
1/16/2021 1:58:42 PM | LocalAdmin | EXTERNAL LOG…. | 0 percent completed
1/16/2021 1:58:42 PM | LocalAdmin | EXTERNAL LOG…. | 0 percent completed
1/16/2021 1:58:42 PM | LocalAdmin | EXTERNAL LOG…. | 0 percent completed
1/16/2021 1:58:42 PM | LocalAdmin | EXTERNAL LOG…. | 0 percent completed
1/16/2021 1:58:42 PM | LocalAdmin | EXTERNAL LOG…. | 100 percent completed
1/16/2021 1:58:42 PM | LocalAdmin | EXTERNAL LOG…. | DiskPart successfully formatted the volume.
1/16/2021 1:58:42 PM | LocalAdmin | INFORMATION… | -----snap-----
1/16/2021 1:58:42 PM | LocalAdmin | WARNING……… | Wait 60 seconds before system restart
1/16/2021 1:58:42 PM | LocalAdmin | INFORMATION… | Reboot needed for config changes
Example from the BIS-F Log after the DriveLetter on the CacheDisk must be changed
1/16/2021 2:03:30 PM | LocalAdmin | INFORMATION… | DiskMode is VDAShared
1/16/2021 2:03:30 PM | LocalAdmin | INFORMATION… | Cache Disk will be configured now for Disk Mode VDAShared
1/16/2021 2:03:30 PM | LocalAdmin | INFORMATION… | PVS Cache Disk Configuration are not set in GPO
1/16/2021 2:03:30 PM | LocalAdmin | INFORMATION… | Reading uniqueID from registry HKLM:\SOFTWARE\Login Consultants\BISF
1/16/2021 2:03:30 PM | LocalAdmin | INFORMATION… | Read uniqueID FA7DB9C0
1/16/2021 2:03:30 PM | LocalAdmin | INFORMATION… | Using Cache Disk ID: 2
1/16/2021 2:03:30 PM | LocalAdmin | WARNING……… | Cache Disk partition is NOT properly configured
1/16/2021 2:03:30 PM | LocalAdmin | INFORMATION… | Number of Partitions from ADMX: 4
1/16/2021 2:03:30 PM | LocalAdmin | INFORMATION… | Number of Partitions on current System: 4
1/16/2021 2:03:30 PM | LocalAdmin | INFORMATION… | Cache Disk partition is not formatted
1/16/2021 2:03:30 PM | LocalAdmin | INFORMATION… | Processing function Get-BISFLogContent
1/16/2021 2:03:30 PM | LocalAdmin | INFORMATION… | Get content from file C:\Users\LocalAdmin\AppData\Local\Temp\BaseImage-2Disk-DiskpartFile.txt…please wait
1/16/2021 2:03:30 PM | LocalAdmin | INFORMATION… | -----snip-----
1/16/2021 2:03:30 PM | LocalAdmin | EXTERNAL LOG…. | select disk 2
1/16/2021 2:03:30 PM | LocalAdmin | EXTERNAL LOG…. | online disk noerr
1/16/2021 2:03:30 PM | LocalAdmin | EXTERNAL LOG…. | rescan
1/16/2021 2:03:30 PM | LocalAdmin | EXTERNAL LOG…. | rescan
1/16/2021 2:03:30 PM | LocalAdmin | EXTERNAL LOG…. | create partition primary
1/16/2021 2:03:30 PM | LocalAdmin | EXTERNAL LOG…. | assign letter Z:
1/16/2021 2:03:30 PM | LocalAdmin | EXTERNAL LOG…. | Format FS=NTFS LABEL=CacheDisk QUICK
1/16/2021 2:03:30 PM | LocalAdmin | INFORMATION… | -----snap-----
1/16/2021 2:03:30 PM | LocalAdmin | INFORMATION… | Processing function Start-BISFProcWithProgBar
1/16/2021 2:03:30 PM | LocalAdmin | INFORMATION… | Starting Process C:\windows\system32\diskpart.exe with ArgumentList /s C:\Users\LocalAdmin\AppData\Local\Temp\BaseImage-2Disk-DiskpartFile.txt
1/16/2021 2:03:30 PM | LocalAdmin | INFORMATION… | Processing function Show-BISFProgressBar
1/16/2021 2:03:30 PM | LocalAdmin | INFORMATION… | Maximum execution time used the GPO value with 60 minutes
1/16/2021 2:03:35 PM | LocalAdmin | INFORMATION… | Processing function Get-BISFLogContent
1/16/2021 2:03:35 PM | LocalAdmin | INFORMATION… | Get content from file C:\Windows\logs\BISFtmpProcessLog.log…please wait
1/16/2021 2:03:35 PM | LocalAdmin | INFORMATION… | -----snip-----
1/16/2021 2:03:35 PM | LocalAdmin | EXTERNAL LOG…. | Microsoft DiskPart version 10.0.17763.1554
1/16/2021 2:03:35 PM | LocalAdmin | EXTERNAL LOG…. | Copyright (C) Microsoft Corporation.
1/16/2021 2:03:35 PM | LocalAdmin | EXTERNAL LOG…. | On computer: BaseImage-2Disk
1/16/2021 2:03:35 PM | LocalAdmin | EXTERNAL LOG…. | Disk 2 is now the selected disk.
1/16/2021 2:03:35 PM | LocalAdmin | EXTERNAL LOG…. | Virtual Disk Service error:
1/16/2021 2:03:35 PM | LocalAdmin | EXTERNAL LOG…. | This disk is already online.
1/16/2021 2:03:35 PM | LocalAdmin | EXTERNAL LOG…. | Please wait while DiskPart scans your configuration…
1/16/2021 2:03:35 PM | LocalAdmin | EXTERNAL LOG…. | DiskPart has finished scanning your configuration.
1/16/2021 2:03:35 PM | LocalAdmin | EXTERNAL LOG…. | Please wait while DiskPart scans your configuration…
1/16/2021 2:03:35 PM | LocalAdmin | EXTERNAL LOG…. | DiskPart has finished scanning your configuration.
1/16/2021 2:03:35 PM | LocalAdmin | EXTERNAL LOG…. | Virtual Disk Service error:
1/16/2021 2:03:35 PM | LocalAdmin | EXTERNAL LOG…. | There is not enough usable space for this operation.
1/16/2021 2:03:35 PM | LocalAdmin | INFORMATION… | -----snap-----
1/16/2021 2:03:35 PM | LocalAdmin | INFORMATION… | Cache Disk partition is now formatted and the drive letter Z: assigned
1/16/2021 2:03:35 PM | LocalAdmin | INFORMATION… | Processing function Get-BISFLogContent
1/16/2021 2:03:35 PM | LocalAdmin | INFORMATION… | Get content from file C:\Users\LocalAdmin\AppData\Local\Temp\BaseImage-2Disk-DiskpartFile.txt…please wait
1/16/2021 2:03:35 PM | LocalAdmin | INFORMATION… | -----snip-----
1/16/2021 2:03:35 PM | LocalAdmin | EXTERNAL LOG…. | select disk 2
1/16/2021 2:03:35 PM | LocalAdmin | EXTERNAL LOG…. | detail disk
1/16/2021 2:03:35 PM | LocalAdmin | INFORMATION… | -----snap-----
1/16/2021 2:03:35 PM | LocalAdmin | INFORMATION… | Processing function Start-BISFProcWithProgBar
1/16/2021 2:03:35 PM | LocalAdmin | INFORMATION… | Starting Process C:\windows\system32\diskpart.exe with ArgumentList /s C:\Users\LocalAdmin\AppData\Local\Temp\BaseImage-2Disk-DiskpartFile.txt
1/16/2021 2:03:35 PM | LocalAdmin | INFORMATION… | Processing function Show-BISFProgressBar
1/16/2021 2:03:35 PM | LocalAdmin | INFORMATION… | Maximum execution time used the GPO value with 60 minutes
1/16/2021 2:03:40 PM | LocalAdmin | INFORMATION… | Processing function Get-BISFLogContent
1/16/2021 2:03:40 PM | LocalAdmin | INFORMATION… | Get content from file C:\Windows\logs\BISFtmpProcessLog.log…please wait
1/16/2021 2:03:40 PM | LocalAdmin | INFORMATION… | -----snip-----
1/16/2021 2:03:40 PM | LocalAdmin | EXTERNAL LOG…. | Microsoft DiskPart version 10.0.17763.1554
1/16/2021 2:03:40 PM | LocalAdmin | EXTERNAL LOG…. | Copyright (C) Microsoft Corporation.
1/16/2021 2:03:40 PM | LocalAdmin | EXTERNAL LOG…. | On computer: BaseImage-2Disk
1/16/2021 2:03:40 PM | LocalAdmin | EXTERNAL LOG…. | Disk 2 is now the selected disk.
1/16/2021 2:03:40 PM | LocalAdmin | EXTERNAL LOG…. | Microsoft Virtual Disk
1/16/2021 2:03:40 PM | LocalAdmin | EXTERNAL LOG…. | Disk ID: FA7DB9C0
1/16/2021 2:03:40 PM | LocalAdmin | EXTERNAL LOG…. | Type : SAS
1/16/2021 2:03:40 PM | LocalAdmin | EXTERNAL LOG…. | Status : Online
1/16/2021 2:03:40 PM | LocalAdmin | EXTERNAL LOG…. | Path : 0
1/16/2021 2:03:40 PM | LocalAdmin | EXTERNAL LOG…. | Target : 0
1/16/2021 2:03:40 PM | LocalAdmin | EXTERNAL LOG…. | LUN ID : 0
1/16/2021 2:03:40 PM | LocalAdmin | EXTERNAL LOG…. | Location Path : UNAVAILABLE
1/16/2021 2:03:40 PM | LocalAdmin | EXTERNAL LOG…. | Current Read-only State : No
1/16/2021 2:03:40 PM | LocalAdmin | EXTERNAL LOG…. | Read-only : No
1/16/2021 2:03:40 PM | LocalAdmin | EXTERNAL LOG…. | Boot Disk : No
1/16/2021 2:03:40 PM | LocalAdmin | EXTERNAL LOG…. | Pagefile Disk : No
1/16/2021 2:03:40 PM | LocalAdmin | EXTERNAL LOG…. | Hibernation File Disk : No
1/16/2021 2:03:40 PM | LocalAdmin | EXTERNAL LOG…. | Crashdump Disk : No
1/16/2021 2:03:40 PM | LocalAdmin | EXTERNAL LOG…. | Clustered Disk : No
1/16/2021 2:03:40 PM | LocalAdmin | EXTERNAL LOG…. | Volume ### Ltr Label Fs Type Size Status Info
1/16/2021 2:03:40 PM | LocalAdmin | EXTERNAL LOG…. | ---------- --- ----------- ----- ---------- ------- --------- --------
1/16/2021 2:03:40 PM | LocalAdmin | EXTERNAL LOG…. | Volume 3 F CacheDisk NTFS Partition 31 GB Healthy
1/16/2021 2:03:40 PM | LocalAdmin | INFORMATION… | -----snap-----
1/16/2021 2:03:40 PM | LocalAdmin | INFORMATION… | Cache Disk ID 2 has DrivLetter F: assigned / Volume 3
1/16/2021 2:03:40 PM | LocalAdmin | WARNING……… | VolumeDriveLetter F: must be changed to Z:
1/16/2021 2:03:40 PM | LocalAdmin | INFORMATION… | Processing function Get-BISFLogContent
1/16/2021 2:03:40 PM | LocalAdmin | INFORMATION… | Get content from file C:\Users\LocalAdmin\AppData\Local\Temp\BaseImage-2Disk-DiskpartFile.txt…please wait
1/16/2021 2:03:40 PM | LocalAdmin | INFORMATION… | -----snip-----
1/16/2021 2:03:40 PM | LocalAdmin | EXTERNAL LOG…. | select volume 3
1/16/2021 2:03:40 PM | LocalAdmin | EXTERNAL LOG…. | assign letter Z:
1/16/2021 2:03:40 PM | LocalAdmin | INFORMATION… | -----snap-----
1/16/2021 2:03:40 PM | LocalAdmin | INFORMATION… | Processing function Start-BISFProcWithProgBar
1/16/2021 2:03:40 PM | LocalAdmin | INFORMATION… | Starting Process C:\windows\system32\diskpart.exe with ArgumentList /s C:\Users\LocalAdmin\AppData\Local\Temp\BaseImage-2Disk-DiskpartFile.txt
1/16/2021 2:03:40 PM | LocalAdmin | INFORMATION… | Processing function Show-BISFProgressBar
1/16/2021 2:03:40 PM | LocalAdmin | INFORMATION… | Maximum execution time used the GPO value with 60 minutes
1/16/2021 2:03:45 PM | LocalAdmin | INFORMATION… | Processing function Get-BISFLogContent
1/16/2021 2:03:45 PM | LocalAdmin | INFORMATION… | Get content from file C:\Windows\logs\BISFtmpProcessLog.log…please wait
1/16/2021 2:03:45 PM | LocalAdmin | INFORMATION… | -----snip-----
1/16/2021 2:03:45 PM | LocalAdmin | EXTERNAL LOG…. | Microsoft DiskPart version 10.0.17763.1554
1/16/2021 2:03:45 PM | LocalAdmin | EXTERNAL LOG…. | Copyright (C) Microsoft Corporation.
1/16/2021 2:03:45 PM | LocalAdmin | EXTERNAL LOG…. | On computer: BaseImage-2Disk
1/16/2021 2:03:45 PM | LocalAdmin | EXTERNAL LOG…. | Volume 3 is the selected volume.
1/16/2021 2:03:45 PM | LocalAdmin | EXTERNAL LOG…. | DiskPart successfully assigned the drive letter or mount point.
1/16/2021 2:03:45 PM | LocalAdmin | INFORMATION… | -----snap-----
1/16/2021 2:03:45 PM | LocalAdmin | INFORMATION… | Processing function Get-BISFLogContent
1/16/2021 2:03:45 PM | LocalAdmin | INFORMATION… | Get content from file C:\Users\LocalAdmin\AppData\Local\Temp\BaseImage-2Disk-DiskpartFile.txt…please wait
1/16/2021 2:03:45 PM | LocalAdmin | INFORMATION… | -----snip-----
1/16/2021 2:03:45 PM | LocalAdmin | EXTERNAL LOG…. | select disk 2
1/16/2021 2:03:45 PM | LocalAdmin | EXTERNAL LOG…. | uniqueid disk ID=FA7DB9C0
1/16/2021 2:03:45 PM | LocalAdmin | INFORMATION… | -----snap-----
1/16/2021 2:03:45 PM | LocalAdmin | INFORMATION… | Processing function Start-BISFProcWithProgBar
1/16/2021 2:03:45 PM | LocalAdmin | INFORMATION… | Starting Process C:\windows\system32\diskpart.exe with ArgumentList /s C:\Users\LocalAdmin\AppData\Local\Temp\BaseImage-2Disk-DiskpartFile.txt
1/16/2021 2:03:45 PM | LocalAdmin | INFORMATION… | Processing function Show-BISFProgressBar
1/16/2021 2:03:45 PM | LocalAdmin | INFORMATION… | Maximum execution time used the GPO value with 60 minutes
1/16/2021 2:03:50 PM | LocalAdmin | INFORMATION… | Processing function Get-BISFLogContent
1/16/2021 2:03:50 PM | LocalAdmin | INFORMATION… | Get content from file C:\Windows\logs\BISFtmpProcessLog.log…please wait
1/16/2021 2:03:50 PM | LocalAdmin | INFORMATION… | -----snip-----
1/16/2021 2:03:50 PM | LocalAdmin | EXTERNAL LOG…. | Microsoft DiskPart version 10.0.17763.1554
1/16/2021 2:03:50 PM | LocalAdmin | EXTERNAL LOG…. | Copyright (C) Microsoft Corporation.
1/16/2021 2:03:50 PM | LocalAdmin | EXTERNAL LOG…. | On computer: BaseImage-2Disk
1/16/2021 2:03:50 PM | LocalAdmin | EXTERNAL LOG…. | Disk 2 is now the selected disk.
1/16/2021 2:03:50 PM | LocalAdmin | INFORMATION… | -----snap-----
1/16/2021 2:03:50 PM | LocalAdmin | INFORMATION… | Disk ID FA7DB9C0 is set on Z:
1/16/2021 2:03:50 PM | LocalAdmin | WARNING……… | Wait 60 seconds before system restart
1/16/2021 2:03:50 PM | LocalAdmin | INFORMATION… | Reboot needed for config changes