The BIS-F 6.0.3 BETA Release support this 2 Mainfeatures "Hyper-V UEFI Support" and "Citrix System Optimizer Engine (CTXOE)"
NOTE: This an BETA Release for testing first and show some notes during run for the BETA Version. After sucessfull testing we are launch the public version on https://bit.ly/Login_BISF . CTXOE would not delivered with any Release of BIS-F, same all other 3rd Party Tools like (cmtrace.exe, nvpsbind.exe, delprof2.exe, sdelete.exe and other)
Thanks to Citrix to involved us in a very early state to support CTXOE, you can get it here https://support.citrix.com/article/CTX224676
News in this Release:
16.06.2017 FF: add support for Citrix System Optimizer Engine (CTXOE)
14.06.2017 MS: Running ImagingWizard instead of P2PVS to support UEFI Boot on Hyper-V
14.06.2017 MS: Stopping Shell Hardware Detection Service before ImagingWizard/XenConvert is starting, messagebox to format the disk supressed now
Citrix System Optimizer Engine (CTXOE) Support
you can configure CTXOE with our ADMX.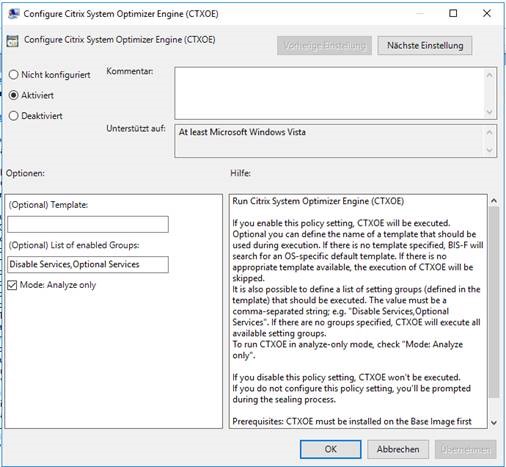 Template: If you do not enter an template name (full path or name to the xml only will work), BIS-F will use the template based on the OS Type. If no template can be found CTXOE will not executed.
Groups: you can enter comma separated the groups that are executed from the template, if you do not specify any group, all groups from the template are executed
Analyze Mode: To analyze CTXOE only, only to see what changes will be made
Policy description:
If you enable this policy setting, CTXOE will be executed. Optional you can define the name of a template that should be used during execution. If there is no template specified, BIS-F will search for an OS-specific default template. If there is no appropriate template available, the execution of CTXOE will be skipped.
It is also possible to define a list of setting groups (defined in the template) that should be executed. The value must be a comma-separated string; e.g. "Disable Services,Optional Services". If there are no groups specified, CTXOE will execute all available setting groups.
To run CTXOE in analyze-only mode, check "Mode: Analyze only".
If you disable this policy setting, CTXOE won't be executed.
If you do not configure this policy setting, you'll be prompted during the sealing process.
Prerequisites: CTXOE must be installed on the Base Image first (BIS-F will check the following locations: C:\Program Files, C:\Program Files (x86), C:\Windows\system32).
[Download not found]
If you have any questions to BIS-F leave a comment below